Charles Widget's Web Page
Chihuahua / Mixed (short coat) : : Male : : Adult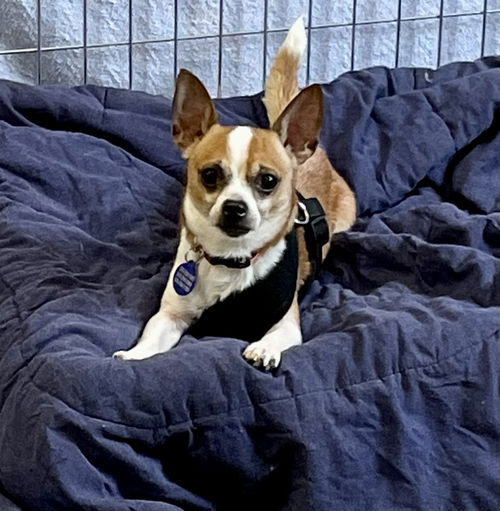 Won't you think about adopting me?
Learn more about the Chihuahua.
Print an adoption flyer for Charles Widget!
About Charles Widget

Status: Available for Adoption (adoption info)
Species: Dog
Rescue ID: 22-0043
General Color: Brown/Chocolate with White
Current Size: 10 Pounds
Current Age: 5 Years (best estimate)
Breed : chihuahua smooth coat
9 pound male - Neutered


Widget is really going to need something unique ...because he, himself is unique. Widget was a neglect case and will need a empathetic adopter. Widget sired some litters so he was intact up until a few weeks ago when the rescue had him vetted. He has the physical signs of neglect...had severe flea infestation with dermatitis and hair loss ...but his hair is growing in and he no longer itches. He needs to gain some weight ...nothing some decent groceries won't fix.


Widget currently lives with 9 other dogs big and small...he likes them-- they like him. He is free ranging in the house during the day and is a respectful guest. He can be crated, but he likes sleeping in bed ...under the covers...at your feet. He can walk ok on a leash and for a chihuahua he's quiet. His only downfall is that he's working on housetraining... no poo inside only pee ...he wears a belly band and he's improving. In his previous home, he did not have access to the outside; in fact, he rarely had much access to anything so he needs time. He's kind ...he's loving ...he's good with kids ...he's safe ...but he himself needs a safe, loving place to land.
He will love you FOREVER!
IMPORTANT - PLEASE READ
Click here for the ADOPTION APPLICATION if you are interested in adopting this pet.
Applications are the first step in the adoption process. Please do not call or email simply to express interest. We are all volunteers and receiving your application saves us time and helps to determine the best match for both people and dogs.
We provide as much information as we currently have on each dog in their description. For questions on the adoption process, including fees, please review the Adoption page. If you have additional questions or are interested in adopting, please fill out an adoption application. Once we receive your application someone will be in touch to answer your questions.

We do not arrange visits to meet dogs without an application. If you'd like to meet a variety of dogs without filling out an application please attend one of our events, listed under the events link.
Thank you!