Agnes Ann's Web Page
Poodle (Standard) / Pointer / Mixed (long coat) : : Female (spayed) : : Adult : : Large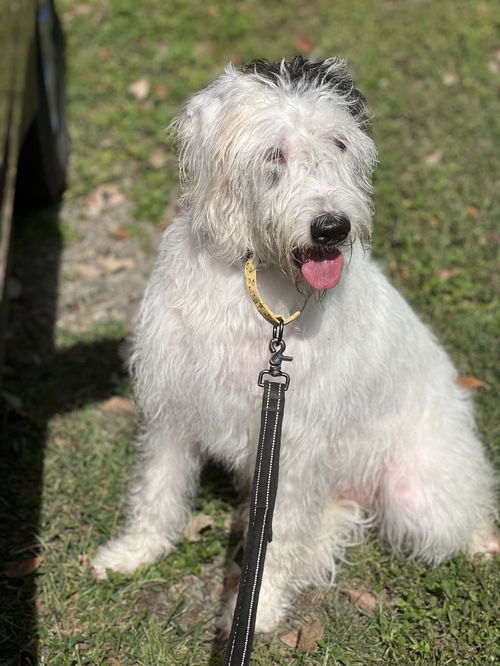 Learn more about the Poodle (Standard). Learn more about the Pointer.
About Agnes Ann

Status:

Adopted!

Species: Dog
Rescue ID: 23-0084
General Color: White
Color: White
Current Size: 50 Pounds
Current Age: 2 Years 2 Months (best estimate)
Meet Agnese Ann. This just turned two year old is a 60 pounder that once bonded loves her people. However, a Walmart Greeter she is not. For her first two years she did not get much socialization so meeting new people or doing everyday things have been hard for her. Since coming into foster care she has grown leaps and bounds; but she still needs much encouragement when being exposed to new people or activities.
This girl's father was a poodle and mother an English Pointer/Dalmatian mix. She has a large black spot that looks like a toupee on her head and another large black spot by the base of her tail. Her coat is almost fluorescent white and is wiry to the touch. It does not mat nor will she need to be clipped down. There are Dalmatian spots hidden under that white coat.
Agnes lived with 8 other dogs and had to be re-homed because the owner had some health issues. She also lived with cats. She quickly integrated into a new pack of 5 that includes old, young, big, small, male and female.
If you have patience and love to give to this young healthy dog that loves to go on long walks please apply today. Feel free to email his foster mom at margaretwilliamsharvey@gmail.com. She is lovingly being fostered in Northumberland, PA.
More about Agnes Ann
IMPORTANT - PLEASE READ
Click here for the ADOPTION APPLICATION if you are interested in adopting this pet.
Applications are the first step in the adoption process. Please do not call or email simply to express interest. We are all volunteers and receiving your application saves us time and helps to determine the best match for both people and dogs.
We provide as much information as we currently have on each dog in their description. For questions on the adoption process, including fees, please review the Adoption page. If you have additional questions or are interested in adopting, please fill out an adoption application. Once we receive your application someone will be in touch to answer your questions.

We do not arrange visits to meet dogs without an application. If you'd like to meet a variety of dogs without filling out an application please attend one of our events, listed under the events link.
Thank you!